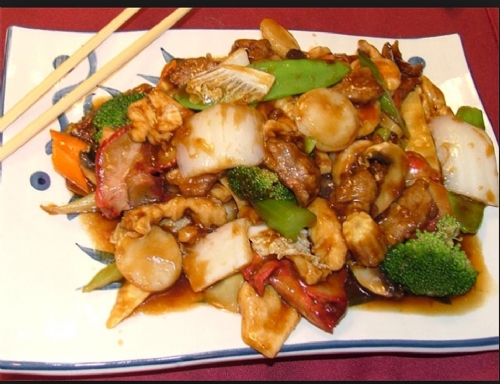 HAPPY FAMILY
China Noodle Restaurant Copycat Recipe
Main Dish:
3 pieces jumbo shrimp
3 pieces scallop
6 pieces beef
6 pieces chicken
6 pieces pork
6 pieces crab meat
4 pieces broccoli
4 pieces Napa cabbage
4 pieces bell peppers
4 pieces carrots
6 pieces snow peas
5 pieces zucchini
Sauce:
1 teaspoon oyster sauce
1 teaspoon soy sauce
1/2 teaspoon sesame oil
1/2 teaspoon minced garlic
2 teaspoons cooking wine
1/4 teaspoon ginger
1/2 teaspoon Hoisin sauce
1/4 teaspoon onions
2 teaspoons cornstarch
To make the Main Dish:
Stir fry all the meats and vegetables together in hot oil.
To make the Sauce:
Mix together all ingredients, adding the cornstarch last. Pour over the cooked meat and vegetables.