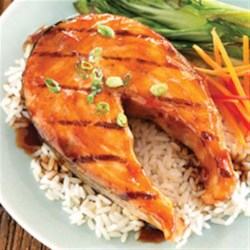 TERIYAKI GINGER SALMON
Big Bowl Restaurant Recipe
Salmon:
2 tablespoons peanut oil
8 ounces salmon fillet
2 tablespoons chopped ginger
1 tablespoon rice wine
2 tablespoons thinly sliced scallion
a small lemon wedge
Combine the soy sauces and sugar to make the teriyaki sauce and set aside.
Heat the pan or skillet to very hot. Add the oil. Sear the fish in the pan skin side down. Turn and sear the other side. Add the ginger and saute briefly. Add 1/4 cup water and cover the pan. Steam for 2 to 3 minutes, adding more water as necessary. Uncover and add the teriyaki sauce, and, as the sauce reduces to a syrup, turn the fish in it a couple of time to glaze. When the sauce becomes a glaze, add the wine, scallion a squeeze of the lemon. Turn the fish once or twice more until well glazed and remove to a serving dish. Makes 2 servings.