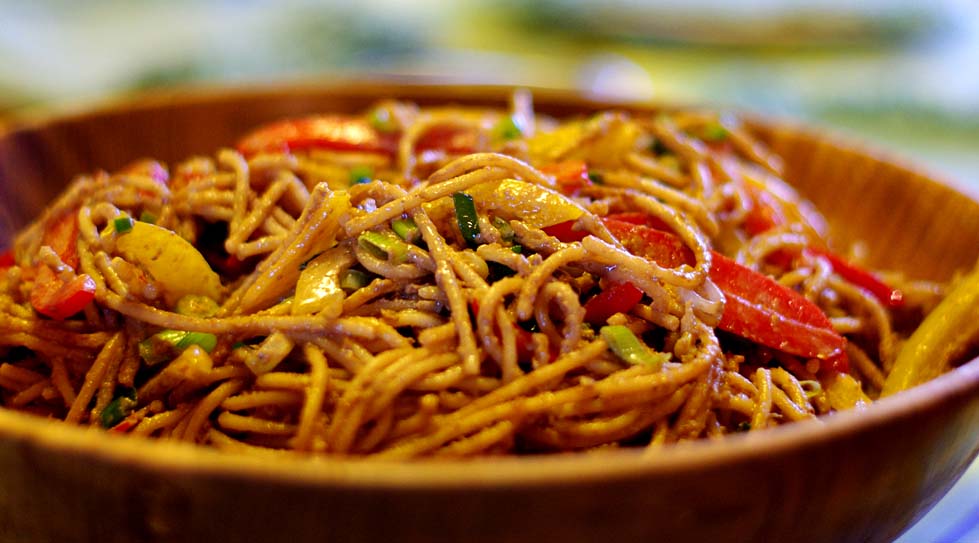 SICHUAN GARLIC CHICKEN NOODLES
Big Bowl Restaurant Recipe
8 ounces fresh Chinese egg noodles
peanut or vegetable oil
5 ounces boneless chicken breast, thinly sliced
1 teaspoon cornstarch
1/2 teaspoon salt
1/2 teaspoon sesame oil
2 tablespoons whole bean sauce
1 tablespoon hoisin sauce
2 teaspoons chili paste with garlic
1 tablespoon red wine vinegar
1 tablespoon sugar
4-6 dried hot red chiles
1 teaspoon chopped fresh ginger
1 tablespoon fresh chopped garlic
1/2 cup sliced scallion whites
1/4 cup chicken broth
1/3 cup whole unsalted peanuts, oven roasted and lightly chopped
1 cup cilantro leaves
1 tablespoon sliced scallion greens
few drops sesame oil
Bring a large amount of water to boiling and cook the noodles, around 5 minutes or until done. Drain, run under cold water to stop the cooking, drain again, and toss with 1 teaspoon of the peanut oil. Set aside.
Mix the chicken slices with cornstarch, salt, and sesame oil. Set aside.
Heat a wok or skillet and add 1 cup of oil. When hot but not smoking, add the chicken and cook until the meat changes color. Remove with a slotted spoon to drain. Reserve the oil.
Heat a clean skillet or wok over high heat. When hot, add 4 tablespoons of the reserved oil and add the dried chiles. Cook until they blacken and smoke. Add the ginger, garlic, and scallion whites, and stir very briefly. Add the sauce mixture and cook, stirring, until it boils.
Add the noodles and the reserved chicken and toss until well coated. Add the chicken broth
and toss until most of the liquid disappears. Turn off the heat, stir in the peanuts, cliantro, and scallion greens, and serve sprinkled with sesame oil. Makes 2 to 4 servings.