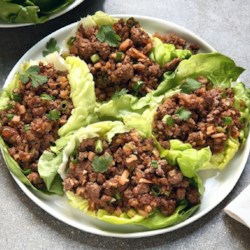 LETTUCE WRAPS
Pei Wei Asian Diner Restaurant Copycat Recipe
Main Dish:
1 pound ground chicken breast
5 green onions, chopped
2 cloves garlic, chopped
1 cup mushrooms, chopped
1 small chunk fresh ginger, chopped
2 tablespoons rice vinegar
1/2 cup almonds, chopped
2 tablespoons sesame seeds
1 small can water chestnuts, chopped
juice from 1/2 lemon
dash red pepper flakes
1 head butter lettuce
dash of salt & pepper
1 teaspoon Srirach
Sauce:
3 tablespoons low sodium soy sauce
2 tablespoons low sodium Teriyaki
2 tablespoons water
2 tablespoons rice vinegar
2 large teaspoon peanut butter
1 or 2 teaspoon Sriracha (
depending on how much spice you like
)
In a heat proof bowl, mix together all the ingredients for the sauce. Microwave for about a minute, then stir. Set aside.
In a large skillet add rice vinegar, green onions, ginger, mushrooms and ground chicken. Saute until chicken is cooked through. Use your spatula to break the chicken into tiny pieces. Add in remaining ingredients and stir together. Pour sauce over top of chicken mixture. Simmer for about 3 minutes.
Serve with fresh large pieces of lettuce.