COCONUT PUMPKIN PIE WITH SPICED CRUST
The Big Bowl Restaurant Recipe
Serves 9 individual pies
Crust:
1 cup graham cracker crumbs
3 tablespoons dried sweetened coconut flakes
1 1/2 tablespoons granulated sugar
1/2 teaspoon ginger
1/2 teaspoon cinnamon
1 1/2 oz melted sweet butter
Filling:
1 3/4 cups pumpkin
1/2 cup granulated sugar
1 cup coconut milk
1 tablespoon chopped fresh ginger
1 teaspoon ground cinnamon
1/4 teaspoon ground nutmeg
1/8 teaspoon ground cloves
3 whole eggs, lightly beaten
1/8 teaspoon kosher salt
Preheat oven to 350
CRUST: Combine graham cracker crumbs, coconut flakes, sugar, ginger, and cinnamon in bowl of food processor. Add butter and combine to form coarse crumbs. Use 2 level tablespoons per ring; press crumbs to form crust in mold. Bake on sheet pan for 10 minutes at 350.
FILLING: Combine all ingredients in stainless steel bowl. Use whisk to combine. Fill ring mold to top of ring. Bake at 350 degrees for 40 minutes until firm but still very tender. Cool in mold.
When cool, unmold onto individual plates, top with homemade whipped cream sweetened with honey and candied ginger garnish.
...............................................................................................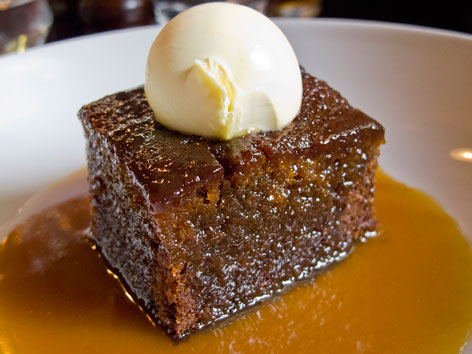 STICKY CARAMEL CAKE
The Big Bowl Restaurant Recipe
Caramel Sauce:
2 cups heavy cream
1/2 cup dark brown sugar
2 1/2 tablespoons molasses
1 pinch kosher salt
Cake:
6 ounces dates, pitted, chopped
1 cup hot water
1 teaspoon baking soda
1/3 cup candied ginger
1 1/4 cup all purpose flour
1 teaspoon baking powder
1/2 teaspoon kosher salt
4 tablespoons unsalted butter
3/4 cup granulated sugar
1 teaspoon vanilla extract
2-3 eggs (
2 large or 3 medium
)
CARAMEL SAUCE: Combine ingredients in saucepan; stir well to dissolve sugar. Bring to boil; reduce heat and simmer until thickened. Place 2 tablespoons in bottom of each buttered ramekin. Chill well.
FOR CAKE: Place dates in hot water to soften. Add candied ginger. Add baking soda to cool mixture. Combine butter and sugar in bowl of mixer; whip until light and fluffy. Add egg one at a time while mixing. Combine flour, baking powder, and salt in a separate bowl. Add half flour mixture to egg and butter mix. Add date mixture and whisk to combine Add remaining flour mix and whisk until just combined–don't over mix or the dough will be tough. Fill each ramekin 3/4 full with batter.
Bake at 325 low fan for 15 to 20 minutes until test stick comes out with a few moist crumbs stuck to it. Cool.
TO SERVE,
rewarm slightly in oven or for 30 seconds (covered) in a microwave. Garnish with caramel sauce and whipped cream.(need 8 – 8 oz baking ramekins)
..............................................................................................
COCONUT STICKY RICE PUDDING
The Big Bowl Restaurant Recipe
1 cup Koda Farms Sweet Rice
6 cups coconut milk (
reduced from 12 cups by simmering
)
2 cups heavy cream
1/2 cup granulated sugar
1 pinch Kosher salt
2 ounces butter, unsalted
4 egg yolks
1/4 cup granulated sugar
1 teaspoon vanilla extract
fresh whipped cream
Mandarin orange slices (
2-3 for each serving
)
Gently simmer rice, coconut milk, heavy cream and sugar until rice is tender. Whisk egg yolks with additional sugar and vanilla extract until thickened. Temper egg yolk mixture with coconut mixture. Pour tempered egg mix back into coconut/rice pot; stir until thickened. Pour mixture into stainless bowl and stir in softened butter. Divide into one cup portions and chill for an hour. Top with one or two ounces of whipped cream and a few Mandarin orange slices before serving. Serves 10.
................................................................................................
LEMONGRASS BARS WITH COCONUT SHORTBREAD
The Big Bowl Restaurant Recipe
Crust:
1 1/2 cups flour
1 cup shredded coconut
1/2 cup powdered sugar
5 1/2 ounces unsalted butter, softened
1/2 teaspoon kosher salt
Filling:
2 1/2 cups cane sugar
1 cup lemongrass stalks, from bottom 4 inch of stalk
5 ounces fresh lemon juice
6 eggs
1/2 cup flour
1/4 teaspoon kosher salt
CRUST: Preheat oven to 350 degrees. Mix flour, coconut, powdered sugar and salt until combined. Add butter and beat until moist clumps form. Spray a 13 X 9 inch baking pan with a nonstick spray. Place dough into pan, and start to spread out into pan to cover the bottom surface, including corners (use waxed paper over the dough). Press dough down into the pan until very flat and even. You may need to use another pan of the same size to press down on top of the dough to achieve this. Bake uncovered for about 20 minutes, until golden.
FILLING: Preheat oven to 325 degrees. Place granulated sugar and lemongrass into food processor; blend until lemongrass is finely chopped. Add lemon juice and pulse until combined. Add eggs; process to blend. Add flour and salt; pulse.
Pour the filling over the hot crust; spread out with a spatula until even height is achieved. Bake for 20 minutes, or until filling is set.
Serve each slice with a healthy scoop of local berries and honey whipped cream (see recipes).Makes 1 cake.
...............................................................................................
LOCAL BERRIES & WHIPPED CREAM
The Big Bowl Restaurant Recipe
1 1/2 pounds strawberries, washed and cut in half
1/3 cup can sugar
1 tablespoon raw honey
1/2 teaspoon lemon zest
2 cups heavy cream
2 tablespoons cane sugar
1 tablespoons raw honey
1/4 teaspoon vanilla paste
Combine ingredients gently in a bowl, as not to crush the berries. Taste the berries before adding the sugar; if they are very sweet, you can use less sugar. Set bowl in refrigerator for about an hour before serving to allow the flavors to combine. The strawberries will also release some natural juice which you can drizzle over the cake.
HONEY WHIPPED CREAM: In a very cold mixing bowl, combine the cream, sugar, honey and vanilla. Whisk until medium peaks form. Refrigerate until serving.
Note: They use local fruit whenever possible for the best flavor, and you can vary the berries by what is currently in season. They also use raw honey for the same reason. Serves 9.
...............................................................................................
LOCAL BERRY CRISP
The Big Bowl Restaurant Recipe
Fruit:
8 cups strawberries, washed and cut in half
4 tablespoons cane sugar
2 tablespoons raw honey
4 tablespoons cornstarch
1 tablespoon lemon zest
1 pinch kosher salt
Oatmeal Streusel Topping:
6 cups gluten free oats
2 cups brown sugar
1 cup cane sugar
2 teaspoons kosher salt
1 pound unsalted butter, softened (plus enough to grease pan)
FRUIT: Combine all ingredients gently in a bowl. Set aside in refrigerator to allow flavors to combine. You may need to reduce or increase the amount of sugar, depending on how sweet the berries are.
TOPPING: Place 3 cups of the oats into a blender and grind into a powder. Pour powder into mixing bowl. Add the remaining oats, sugars and salt and combine well. Mix the softened butter into the mixture.
CRISP: Preheat oven to 350 degrees. Butter a 13 X 9 inch pan. Pour the fruit mixture into the pan and lever out with a spatula or back of a spoons. Sprinkle the entire surface generously with the streusel topping. Bake for about 20 minutes, but keep an eye on it so it does become over-browned.
Yield; 16 servings. Divide into 16 portions, and serve each with a healthy scoop of honey whipped cream (see recipe above) or a scoop of ice cream.